I traveled to the US in March, unaware that my short trip to celebrate my mom's birthday would turn into a long-term stay because the Honduran borders closed. When I first heard the news, I remember walking in my neighborhood, listening to podcasts, and trying to process everything that was happening.
One podcast, from Krista Tippett's On Being project, is an interview with psychiatrist Bessel van der Kolk about the effects of trauma. They are discussing the healing power of movement, and how people are able to heal themselves after trauma by "being agents in their own recovery:"
What goes wrong is, if you're kept from using your stress hormones, if somebody ties you down, if somebody holds you down, if somebody keeps you imprisoned, the stress hormones keep going up, but you cannot discharge it with action. Then the stress hormones really start wreaking havoc with your own internal system. But as long as you move, you are going to be fine. As we know, after these hurricanes and these terrible things, people get very active, and they like to help, and they like to do things, and they enjoy doing it because it discharges their energy.

Dr. van der Kolk, interviewed by Krista Tippett on On Being
Inspired by this, I started looking for ways to help. I knew that with people out of work, and because of pandemic-related safety restrictions, a food bank was one of my only options. Unfortunately, the Houston Food Bank was just too far away. When I saw an announcement about serving at a local food pantry, a 10-minute bike ride from my house, I knew that was the place to go.
I enjoyed helping as a volunteer, but I also wanted to help others by creating opportunities for them to become "agents in their own healing." For this reason, I decided to help coordinate volunteers at my local food pantry during a period of transition. Many of the volunteers who initially were available could no longer go as often or at all because they were going back to work. I needed to find new volunteers and provide incentives for the current volunteers to keep coming back.
What I accomplished
Research volunteer coordination: having been a volunteer myself for most of my life, and coordinating a long-term volunteer program for four years with the Mennonite Central Committee in Honduras, I know a lot about volunteering. However, coordinating volunteers for 4x weekly hard physical labor was a new learning experience for me. I researched strategies to coordinate, ways to motivate, and technology to communicate with volunteers. I started a rough draft of a volunteer coordination plan.
Communicate the plan with current volunteers and coordinators: I communicated and honed my rough draft of the plan with the pantry's administrators and received feedback from current volunteers, especially long-term regular volunteers. The biggest concerns of volunteers were to make sure people were still following social distancing and to make sure new volunteers had a clearer idea of where to go or what to do.
Communicate with local organization leaders for input: I called leaders from the churches that support the pantry and asked for input about how to connect with people from their congregations in particular.
Create materials: I created a Gmail email address and Google Voice number to communicate with volunteers. Once the plan was developed and put into practice, with improvements still being added every week thanks to feedback and ideas from the volunteers, I created overview materials using Canva to aid in communication before/after volunteering and task delegation during the volunteer shift. After testing out many different types of sign-up forms, I created a sign-up sheet using SignUpGenius that allows volunteers to sign up with multiple people for multiple shifts at a time, and it sends a reminder email one day in advance. The paid plan is worth it for the automatic updates to the list of dates and the ability to remove advertising.
Communicate with new and current volunteers: I maintained a constant flow of communication with current volunteers, both through calls and emails. I kept a written record of communication, which I always referred to when communicating with them, and as I planned the next steps. I also connected with them on a personal level. This personal connection is what I most enjoyed about the role.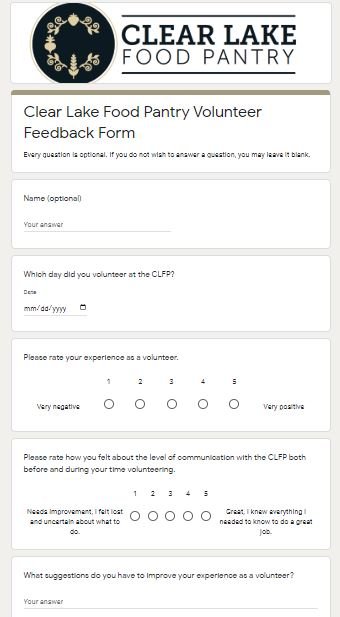 Lessons I learned
Volunteer appreciation
Of all the lessons I learned about starting a volunteer program, perhaps the most important is that volunteers need to feel needed. Volunteers are not usually being forced to help out – they want to work, and they need to feel appreciated. The single best way of appreciating a volunteer is to give them a task and all the information about that task that they need to know to do it well, and then trust them to run with it. No amount of volunteer appreciation notes, words, gifts, or luncheons are going to top the chemical goodness of being able to get rid of stress hormones through action.
Human connections
The second major lesson is that volunteers who come back usually do so because of the human-human connection. When communicating with new volunteers or touching base with current volunteers, connecting with the volunteer on a personal level will help you build trust with that volunteer. With more trust, they will be more likely to let you know if something is wrong instead of ghosting without any warning.
Connect with new volunteers through current volunteers or other human-human connections. The food pantry already had in place contact people from each of the church partners. These contact people, or advocates, communicated with people in their churches to bolster participation. Ask volunteers to share volunteer information with people they know who might be interested. People who like to help others are usually friends with people who like to help others, and they will have the added benefit of seeing a friend while volunteering.
Create roles where volunteers can make human connections and even friendships with people working close to them in the same general vicinity. Let them stay in that role in that same time/day shift if they like it – avoid switching up people's tasks/roles/teams too much without good reason.
Volunteer comfort
It is absolutely okay to think of the volunteers' comfort, and even to spend money on volunteers – give them enough water, provide safety equipment, take snack and rest breaks. Because, when creating a non-emergency response program, you have to put a priority on attracting and retaining volunteers. It seems counter-productive to the mission of the organization: serve the community. However, volunteers are the backbone of a food pantry, and it makes sense to take care of them just as much as you would take care of a patron.
Potential volunteers need a way to gauge their interest in committing long-term. Creating episodic volunteer opportunities is extra work, but it is worth it in the long run. It is okay to ask for a commitment from volunteers, but before asking them to commit, you must provide a way for a volunteer to dip their toe in the water first. One way that I did this was I created a volunteer opportunity for people to be able to sign up for a day of work with their group – not exclusive to the group, but a way for individuals to feel more comfortable. About 70% of these volunteers decided to become regular volunteers, as opposed to only 40% of individual episodic volunteers.